BLACK TEAS
​​Black teas, also known as red teas, are typically the strongest and most flavourful teas. In addition to withering, rolling and drying, an extra step is used to make black tea – oxidation. Some people believe that black teas are very strong and bitter. Whilst this can be the case with black tea from some regions, Georgian black teas are usually a lot softer and smoother than your average black tea. They have a certain fruity sweetness to them. 
Every leaf of our black teas was hand plucked from the tea fields at our farm. Tomas and Hannes then coaxed out its flavours with their tried and tested recipes.
LEARN MORE ABOUT OUR BLACK TEAS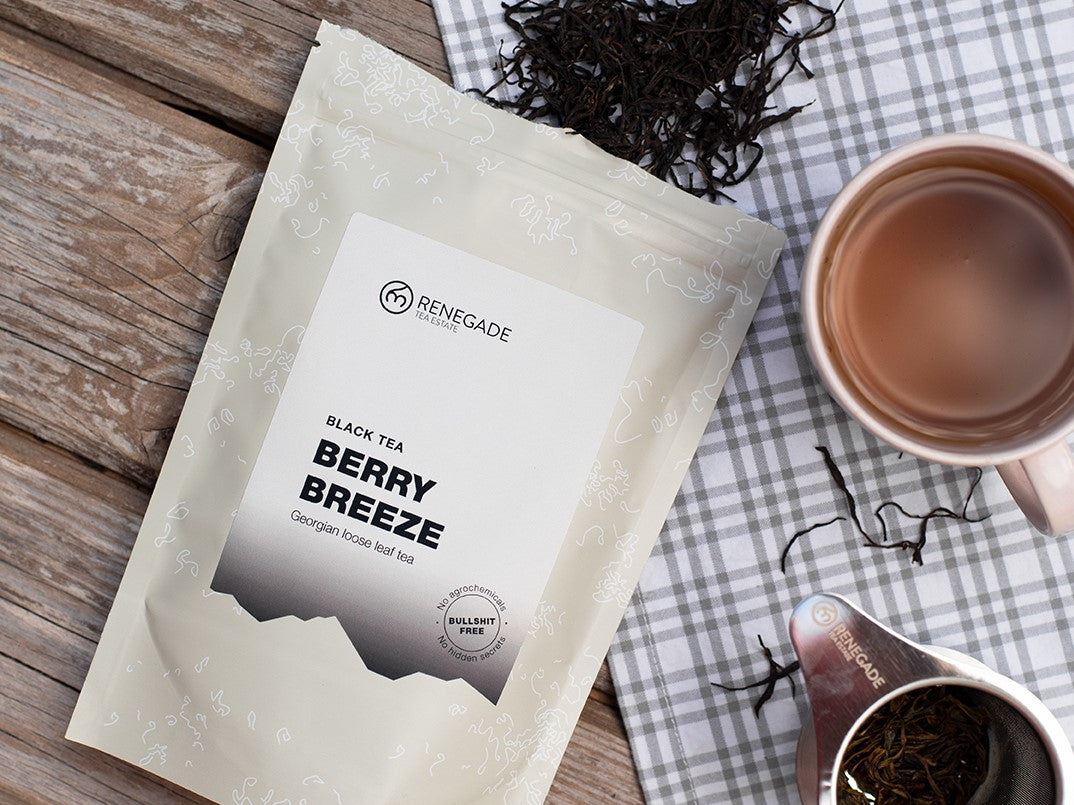 BERRY BREEZE
This is a very lightly oxidized spring black tea. It has a soft and smooth taste where you can feel hints of berries - red currant, raspberries and hibiscus. A fresh and fruity black tea, no sharp edges. This tea reminds us of those summers at the homestead, with an infusion made of raspberry and hibiscus. Beverage as sweet as those memories that from time to time sneak into your mind with a summer breeze...
BURNISHED BEAUTY
This spring black tea was oxidized for an extended time at a low temperature, without forcing it too much and letting it mature gently which resulted in a taste where you can feel dark chocolate and raw cocoa, also sense hints of flowers. It has an earthy aroma and captivating bronze colour.
EVENING LILAC
Evening Lilac has one of the most distinct tastes among our black teas and as the name hints, it will take you to the world of flowers. Both the smell and taste has a full bouquet of lilacs and jasmine. This juicy and silky taste has won our hearts and hopefully, it will do the same with you!
GEORGIAN BREAKFAST
A great companion to start the day with! This black tea's captivating smell is toasty, smoky, a bit spicy. You can feel some roasted rye bread, tobacco. The taste is full-bodied, toasty and you can also feel the sweetness of dried plums. If you have been looking for a stronger black tea in our selection, then this is the one!
RENEGADE BLACK
Renegade Black is a representative of the classical Georgian black tea – smooth, a bit sweet and fruity, accompanied with just enough tannins at the end. It has enough character to show you the essence of black teas, but it doesn't overwhelm you with intensity. We have fallen in love with the Georgian black teas. We hope you will too!
SMOOTH JAZZ
The Smooth Jazz's recipe has developed over time together with new jazz tunes. We believe that this year's batches are something really special. We're not really into fancy tea descriptions as they often seem to be unrealistic, but this tea really smells like ripe strawberries... We're not kidding. Also, the taste has the flavour of ripe berries and fruits and a lot of sweetness. You really need to taste it to understand it. And if you don't feel those tastes, let us know, maybe we have gone crazy with all those tea tastings!
TRY OUR TEAS

We make around 20 different teas each season - white, green, oolong and black teas and a few herbal teas.

All our teas are organic and single origin – from our farm. At first, you can order one of our taster sets to get to know our teas.

TRY OUR TEAS

ORDER YOUR YEARLY TEA SUPPLY

As a small farm, we can't keep all the teas we make in stock all the time so we mainly work on a pre-order basis. If you already know which of our teas are you favourite, then we invite you to make a pre-order before the season starts, so we can grow and produce those teas for you. Pre-ordering creates less waste and also saves you time and money! All pre-orders include free shipping.

READ MORE
Black tea is the traditional tea in Georgia- it had its heyday during the Soviet Union, being the only tea that was drunk in the countries within the union and the finest batches made their way straight to Moscow. While the processing methods and quality were quite different back then, we are trying to combine modern processing technologies and chemical-free farming to bring the best out of the Georgian black tea and to introduce it to the world once again!