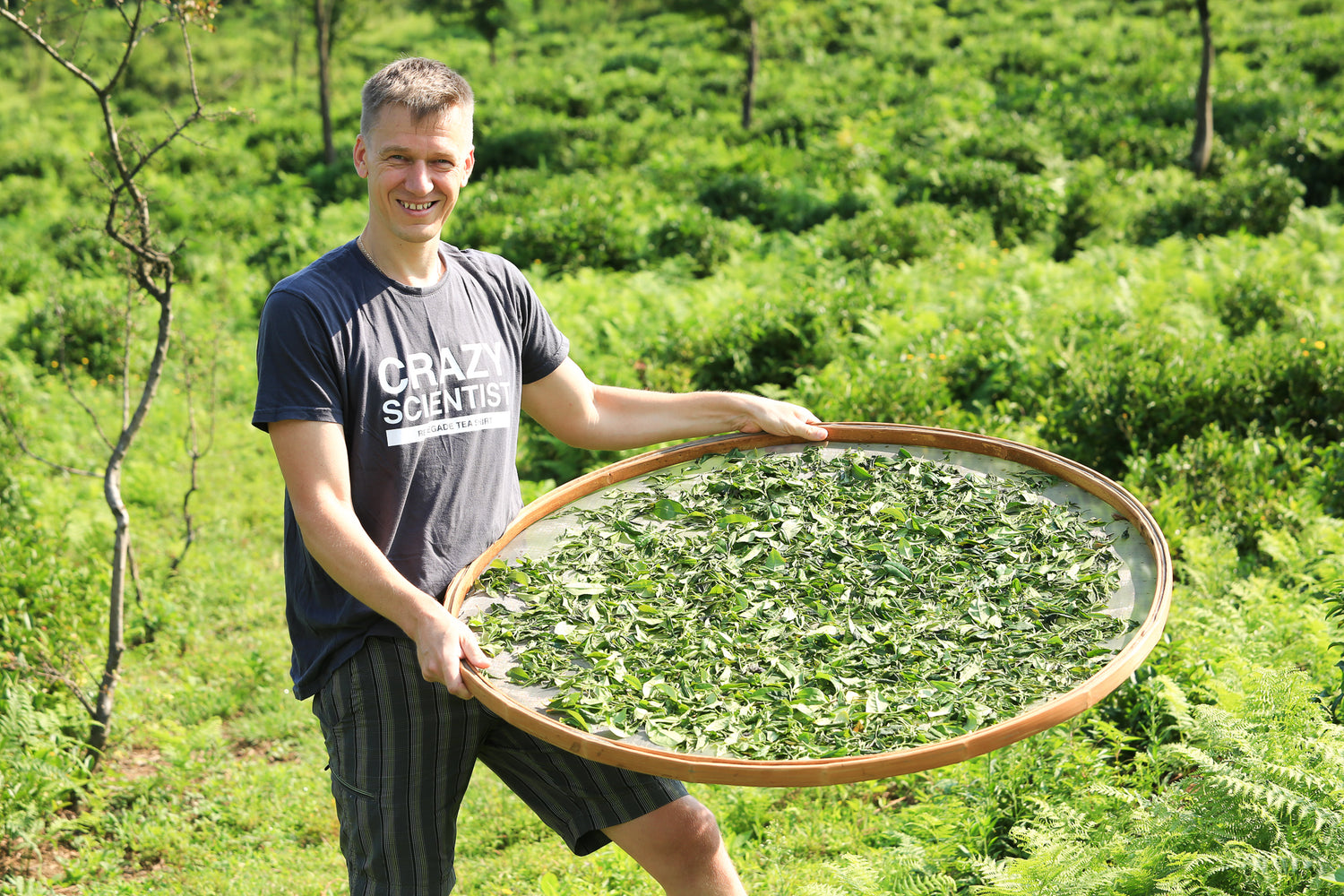 LEGENDARY TEA MASTER BOOTCAMP
Since day 1, we've been about giving our community open and transparent access into tea making. You follow each step of the process: from plucking the first spring leaves to making tea at our little factory and shipping it to you. For us, it's always been your tea that we grow for you!
Now, we're taking it one step further in a way that very few people can ever experience in life - become a trainee tea master with us on our farm and make your own unique Renegade tea to take home with you.
WHAT IS THE LEGENDARY TEA FARMER BOOTCAMP?
It's a deep dive into tea making and a first-hand experience of life as a tea master. You'll learn how to make tea with Tomas and Hannes in our factory for up to two weeks. This isn't a typical holiday. Once you enter our factory as a trainee tea master, Hannes and Tomas will expect you to put in the work: experiencing the joys and pains of a tea master for the whole day.

The Bootcamp lasts 5 working days, with the option of extending up to 10 days. It includes training for up to max. 3 people as a group, so you can bring your friends or family along if you'd like. Bear in mind that we only harvest in dry weather.

LEARN HOW TO MAKE TEA AND DRINK YOUR OWN TEA AT HOME
You'll make your own tea – just as you like it – and enjoy 3 KG of it back at home.

You choose the name of your tea and description for the packaging as well as what size bags you'd like it packed in: 30g, 50g, 150g bags or bulk.

We'll ship the tea to your address at the end of the season so you can share it with your friends and family and drink it at home! Plus, you'll always be able to order more (minimum 3 KG) from us at 20% discount compared to our regular tea prices.

After you leave the rolling machines with your head filled with knowledge and memories from your time with us on the farm, you'll still be able to re-live your experience with a cup of your tea. And... perhaps others will get to share your tea too. At least 1 of the 30 teas created by our Bootcamp participants will be selected as one of our permanent teas.

* The package price includes 3 KG of a single tea, not 3 different teas. The quantity is 3 KG regardless of group size.
THE DETAILS
What is included in the Bootcamp?

The Bootcamp includes tea training for up to 3 people for 5 days and 3 KG of tea to take home. It doesn't include accommodation, transport and catering, but we can send you recommendations.

When can you participate?

You can choose dates between 15th May - 20th Sep each year. This is when the tea making season is in full swing. There are only 30 Bootcamp packages available over the next two years.

Who can join our Bootcamp?

Anyone can train to be a tea master. All you need is a thirst for learning and a thirst for tea! Bring along up to two members of your friends and family to share the experience together. Trainee tea masters should be at least 12 years old to take part (although we can discuss this).

How much does it cost?

The Tea Farmer Bootcamp costs €1399. This is a fixed price that includes training for up to 3 people for 5 days. You can extend your training up to 10 days at €150 per day. Pay a deposit to reserve your spot and pay the full amount within 10 days of your arrival.
INTRIGUED?
If you think you've got what it takes to be a tea master, find out more details, including a day by day itinerary, below.
ADDITIONAL INFO