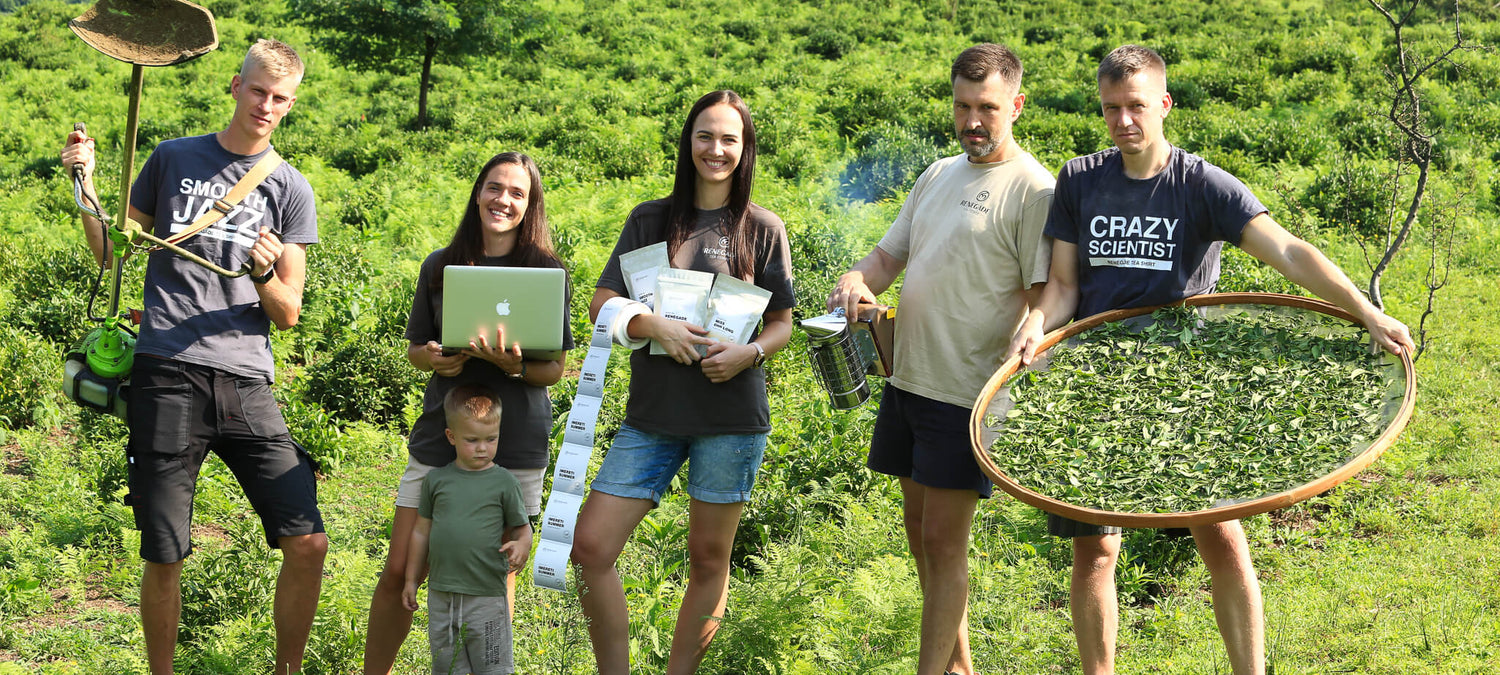 Becoming tea farmers was not something we had always dreamed of - we had successful corporate careers and no real pressure to make a complete change in our lives. Our journey started with a crazy idea and a series of coincidences following that.
You can read the full stories from each of us from our blog, but let's just say that we didn't have a lifelong dream to become tea farmers and there were no dramatic moments of "clarity" that descended on us. There were also moments of doubt when we were intimidated by the idea of exchanging our office attire for rubber boots. A few left our team halfway through and there were others that joined later, but in the end, the unreal story of the abandoned tea industry of Georgia really got to us and our passion was bigger than our fear. So, we left our corporate careers in the Baltics and started as tea farmers in Georgia to give our part in brining Georgian tea back to the map. 
WE STARTED THIS JOURNEY BECAUSE WE ARE:
- Blue-eyed enough to believe we can help Georgia. We see a true mission and greater good in helping to revive the Georgian tea industry. Seeing the abandoned tea fields scattered around on the beautiful hills of western Georgia and the dwindling small towns which are slowly emptying due to lack of employment and prospects, gave us a strong impulse and motivation to do something about it. We also believe that the world needs to know about the clean and unique tea that comes from Georgia.
- Cocky enough to think we can bring something new to the tea world.The tea industry is dominated by middlemen and big corporations. There is more tea produced in the world than is consumed and there are hundreds of companies branding and selling it. Yet it is hard to find even a handful of true next-door tea farmers who are growing, making and selling their high quality natural products under their own brand names. There is a general lack of authenticity as the profits are reaped by middlemen and distributors, leaving the farmers and producers in the shadows.
Therefore, our goal is to be the most transparent tea company with the most personal customer experience, from planting the new seedlings until sending you a box of our teas.
- Idealistic enough to believe we can hide from the corporate windmills. There are three main things about doing business that we all share in our team — we don't like politics and corporate games, we have always wanted to challenge the status quo and we share a passion for really good, authentic customer experiences. Therefore, starting a small tea estate in Georgia felt like a pretty good match with our personal goals and ambitions.
MEET THE TEAM