GREEN TEAS
Green teas are made by withering, fixing, rolling and drying the leaves without any oxidation taking place. Although many people think that green teas are bitter, this isn't true. Whilst some green teas are naturally a little bit astringent, they are usually mellow as long as the water isn't too hot when they're steeped. Check the exact brewing info on your package, and never put boiling water on green tea. ;)
Hannes and Tomas prepared all of these green teas on our farm, according to their own recipes. Locals from the nearby village help us to hand-pluck and hand-sort leaves from the tea fields by our factory.  
LEARN MORE ABOUT OUR SELECTION OF GREEN TEAS: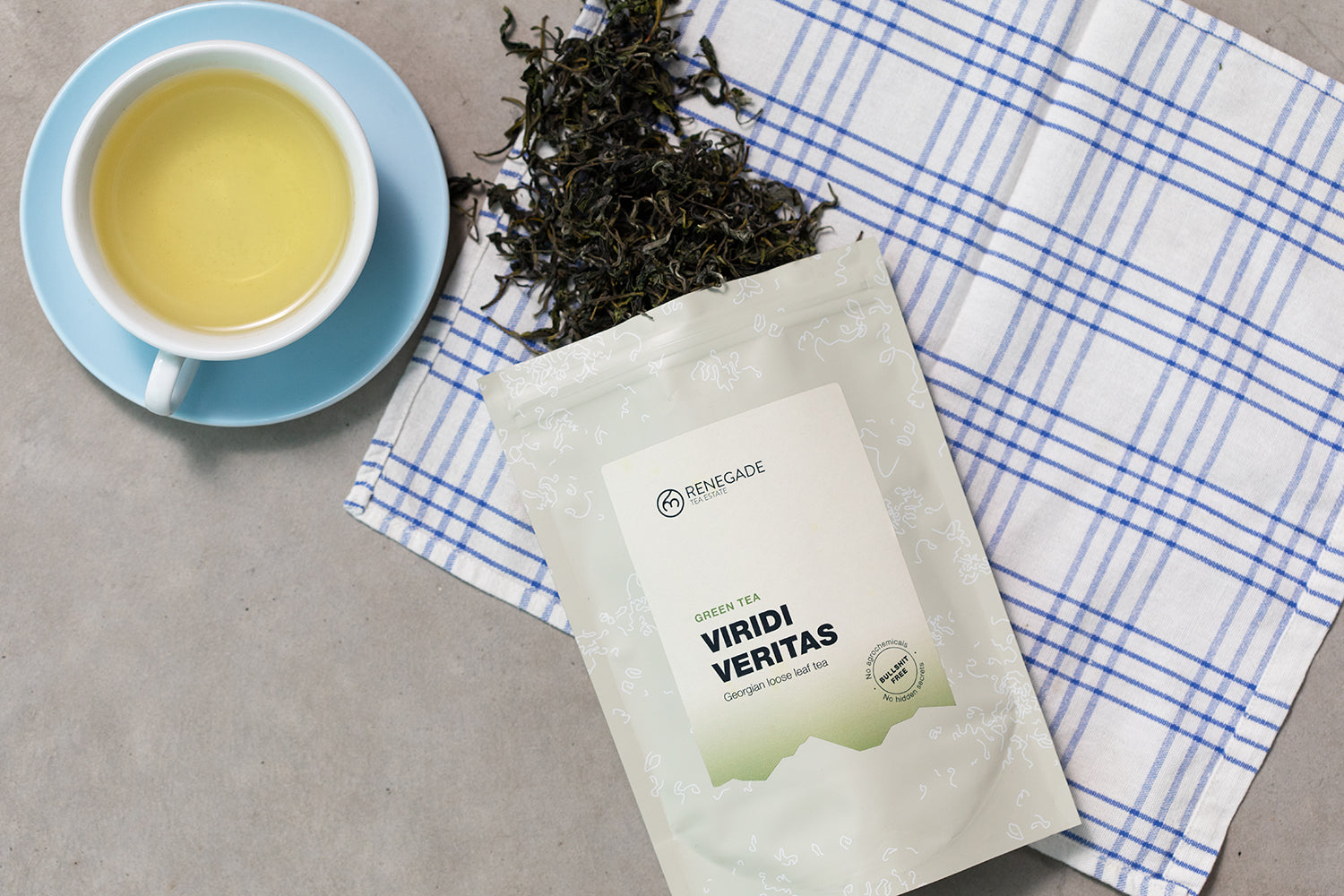 VIRIDI VERITAS
Viridi Veritas which means "green truth" in Latin, deserves its name fully. It took us some time but we finally managed to make a green tea that actually looks green as well! The secret to it? Hand-rolling! The taste is fresh and silky-smooth, leaving a slightly tingly feeling on your tongue. The tea has a yellowish-greenish color and a fresh vegetal aroma.
TULIP GARDEN
After a well-received upgrade in the recipe, this green tea is now a sip of true spring flavours! It has a fresh and floral taste with a nice touch of astringency at the end.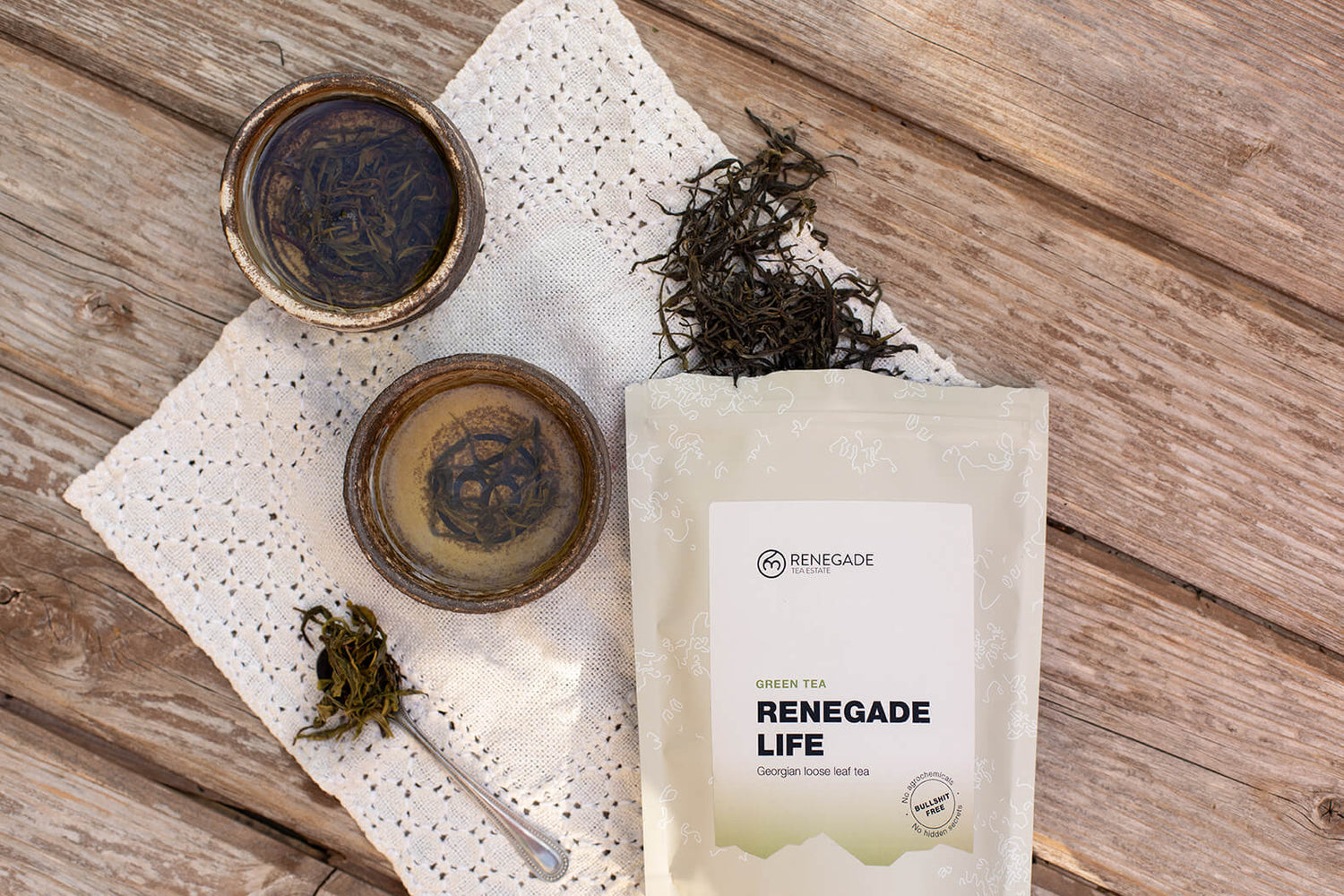 RENEGADE LIFE
This green tea is a true renegade. We took a bit different approach on this one by letting it wither overnight which resulted in quite an interesting green tea in our selection. It has a nutty, a bit roasted aroma with hints of sweetness and umami in it. The taste is not as vegetal as most of our green teas - instead, you can feel notes of chestnuts and peanuts accompanied by a roasted flavour.
GREEN VELVET
The mildest version of our green teas. It's perfect for all the tea lovers who tend to forget the leaves to steep for too long. The taste is fresh, smooth and vegetal. You can sense hints of mango in its aftertaste. Almost as if someone had secretly added a dash of sugar to your cup. The tea has a yellowish colour and a sweet aroma.
SUNSET GARDEN
Sunset Garden is one of the first recipes of green tea that got to our "approved" section. It has stayed there ever since and proved to be a favourite to many. The smell is brothy, even a bit roasted. The taste is nicely balanced - it has a grassy, vegetal flavour with hints of flowers in it.
Green tea is not the traditional tea in Georgia. Although approximately 150 000 tons of tea was produced during the heydays of the Georgian tea industry, all of it was almost exclusively black tea. We believe that the tea plants grown on lands that have been free of chemicals for nearly 30 years, make also a great basis for high-quality organic green tea. Combining chemical-free farming and modern techniques of processing, we try to bring out the uniqueness of Georgian green tea.
TRY OUR TEAS

We make around 20 different teas each season - white, green, oolong and black teas and a few herbal teas.

All our teas are organic and single origin – from our farm. At first, you can order one of our taster sets to get to know our teas.

TRY OUR TEAS

ORDER YOUR YEARLY TEAS

As a small farm, we can't keep all the teas we make in stock all the time so we mainly work on a pre-order basis. If you already know which of our teas are you favourite, then we invite you to make a pre-order before the season starts, so we can grow and produce those teas for you. Pre-ordering creates less waste and also saves you time and money! All pre-orders include free shipping.

READ MORE