OOLONG TEAS
Being semi-oxidised, oolong teas sit somewhere between green and black teas – they can vary from something to closer to a green tea to dark, almost fully oxidised oolongs. These teas typically have the smoothest taste palettes, without any sharp edges or strong astringent notes. 
Hannes and Tomas developed the recipes for these oolong teas which they make at the small factory on our farm. The leaves are hand-plucked every season by people from the nearby village.
LEARN MORE ABOUT OUR SELECTION OF OOLONG TEAS: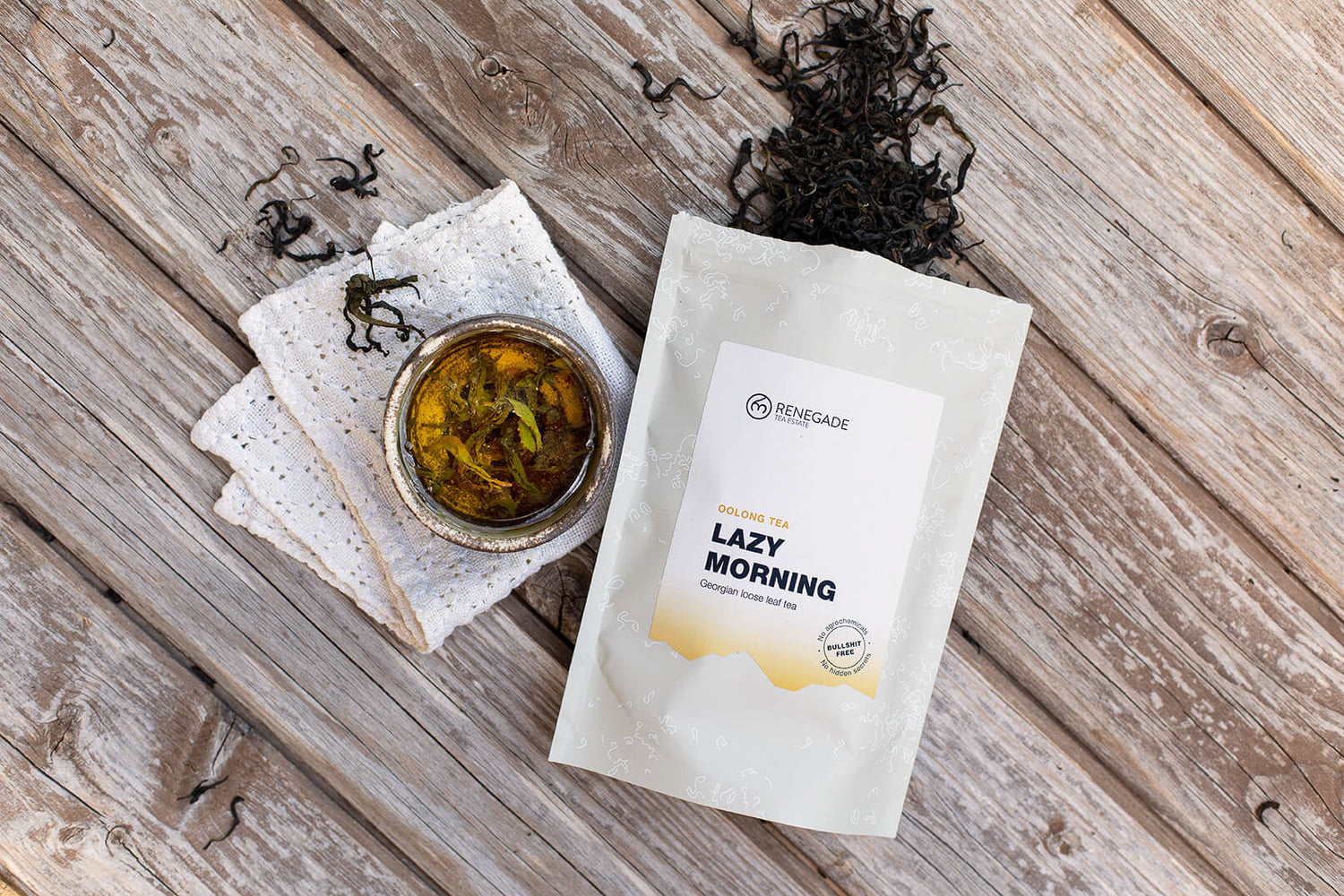 LAZY MORNING
Balancing between green and oolong tea, Lazy Morning is the greenest among our oolong teas. The smell takes you to the fresh and sweet aromas of spring - a lot of lilacs and jasmine. The taste combines a bouquet of lilacs with a nice sweetness.
PRODIGY MESAME
The aroma is fresh and quite floral, you can feel the sweet aroma of butter biscuits and sweet summer flowers. The taste profile is well-balanced, not too much to the green nor to the black side. Mesame means third in Georgian languages and it indicates that the final recipe was born on our third season, this one is here to stay ;)
MISS OHH LONG
This oolong has the perfect balance between the silky nature of black tea and the freshness of green tea with some floral hints in it. The slight astringent aftertaste is just the attitude of Miss Ohh Long that she shows from time to time.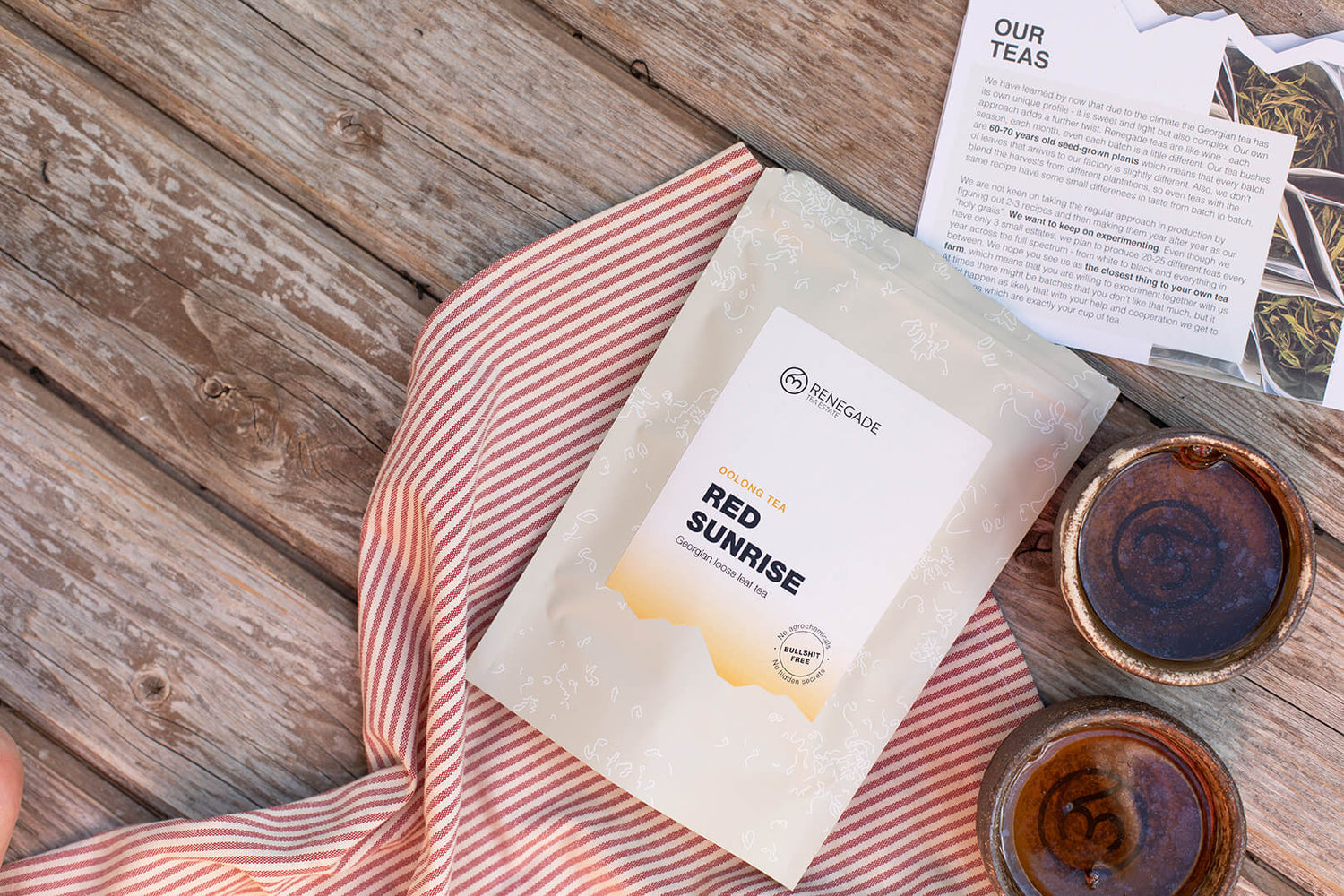 RED SUNRISE
Red Sunrise has an intense orange colour and the aroma of fresh tobacco. This well-oxidized oolong has the flavour combination of sweet fruits and berries, honey and flowers with some light tannins.
Oolong tea is completely new in the Georgian tea world - when green tea is just rare, then oolong is something that is not seen at all here. We believe that the characteristics of the Georgian tea bushes, growing on lands that have been free of chemicals for nearly 30 years,  are just right to experiment with different kind of oolong type of teas. Combining chemical-free farming and modern techniques of processing, we hope to surprise the world with high-quality organic Georgian oolong teas.
TRY OUR TEAS

We make around 20 different teas each season - white, green, oolong and black teas and a few herbal teas.

All our teas are organic and single origin – from our farm. At first, you can order one of our taster sets to get to know our teas.

TRY OUR TEAS

ORDER YOUR YEARLY TEAS

As a small farm, we can't keep all the teas we make in stock all the time so we mainly work on a pre-order basis. If you already know which of our teas are you favourite, then we invite you to make a pre-order before the season starts, so we can grow and produce those teas for you. Pre-ordering creates less waste and also saves you time and money! All pre-orders include free shipping.

READ MORE

SPECIAL OFFERS / TEAWARE

Looking for something special? Check out our selection of teaware, gift sets and seasonal offers! Every now and then we also experiment with some new recipes and put the results up here.

SEE THE SELECTION