WHITE TEAS
In theory, white teas are the easiest to make - just wither and dry! But the secret to a good white tea is a lot more than meets the eye - it depends where and when the leaves have grown and how exactly it has been processed. For example, only the most delicate part of the tea bush is plucked, a bud and one leaf, making it a very resource demanding and technical job.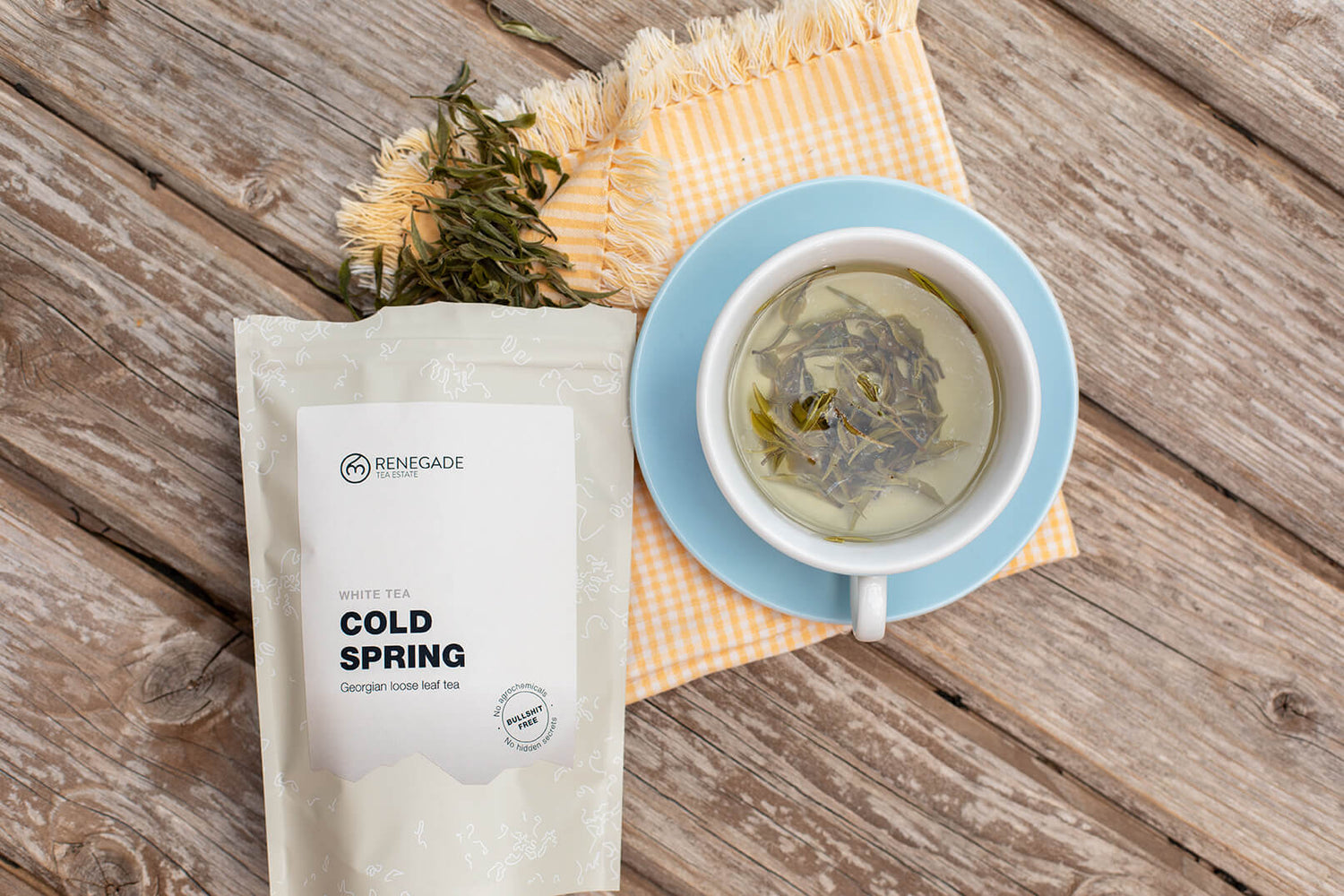 COLD SPRING
A fresh and light white tea, to release its full character it demands a bit longer steeping time. The aroma is fresh and vegetal, with notes of citrus. You can easily use the same leaves for 3-4 brews to enjoy the delicate and sweet white tea with a very light astringency and sweet citrus aftertaste.
IMERETI SUMMER
This summer white tea feels like summer days in Imereti, Georgia - sweet, smooth and full of light summer aromas. The tea has been withered for more than 24 hours which brings out the sweetness and tropical flavours. Its fruity taste and silky feeling are captivating. Use different temperatures for brewing to bring out the many faces of this tea.
HERBAL TEAS
From time to time we like to experiment with local herbs. Some experiments have failed, but other have come out really good ;)
BILBERRY BETA
On our third season, we decided to break our own rules of not making any blends or herbal teas and made some bilberry leaf tea. It turned out to be so popular that we make it now every spring! Bilberry tea or Motsvis chai (მოცვის ჩაი) is a well-known herbal tea in Georgia, gathered only during a short time in spring from special places only a few in the villages know.

Bilberry Beta has a dark brown, greenish-coloured liquid and a fresh, tart taste. You can feel the taste profile of bilberries, blackcurrants and hibiscus in it. Packed with nutrients and antioxidants, but without any caffeine, this herbal tea is a good choice when you are looking for something different to refresh your day.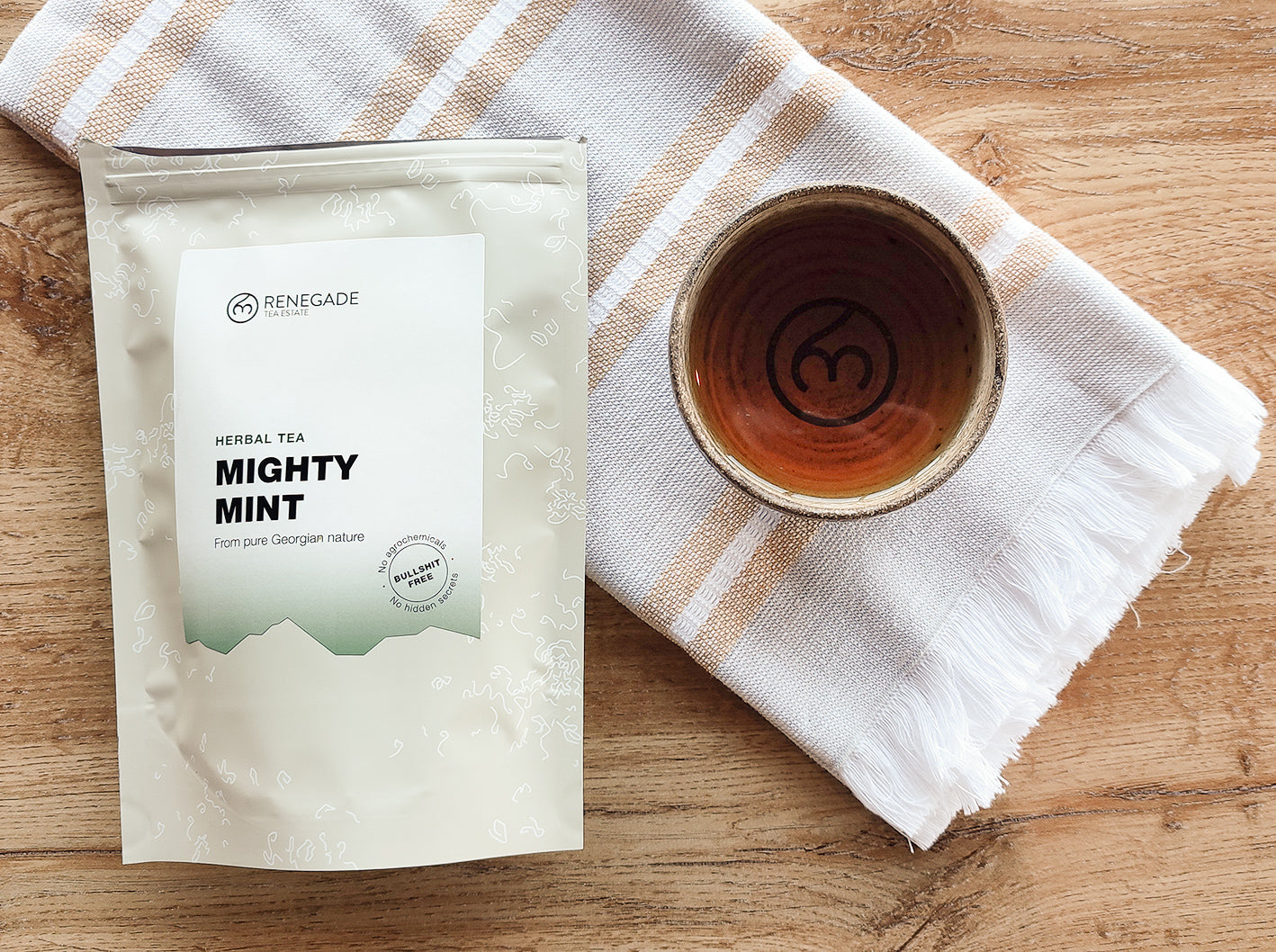 MIGHTY MINT
On our third season, we broke our own rules of not making any blends or herbal tea and we made our very first herbal tea - bilberry leaf tea. As we cannot say no to experimenting, a few seasons later we ended up making another herbal tea - Mighty Mint. When we realized that we have a bed of apple mint growing at Rioni Estate, we didn't think for too long and brought those gigantic and soft mint leaves to the factory.

Mighty Mint has a bronze-coloured liquid and a cooling taste. It's not as intense as the mint we are used to in northern Europe, but it has an interesting refreshing taste with some eucalyptus notes in it. It doesn't have any caffeine and it is a good choice when you are looking for something different or something relaxing to end the day.
TRY OUR TEAS

We produce around 20 different teas each season - different white, green, oolong, black teas and a few herbal teas as well. All our teas are organic and single origin, coming from one of our plantations. As a first step, we suggest you to order one of our taster sets to get acquainted with the teas.

CHOOSE A TASTER SET

ORDER YOUR YEARLY TEA SUPPLY

As a small farm we can't keep all teas in stock all the time. That is why we mainly work on a pre-order basis. If you have found your favorites among our teas, then we invite you to make a pre-order before the season starts, so we can grow and produce those teas for you. Pre-ordering your teas creates less waste and also saves your time and money! All pre-orders include free shipping.

READ MORE

SPECIAL OFFERS / TEAWARE

Looking for something special? Check out our selection of teaware, gift sets and seasonal offers! Every now and then we also experiment with some new recipes and put the results up here.

SEE THE SELECTION OF TEAS